COACHES WANTED:
Cyclone is seeking qualified, energetic coaches to join our family. Class and team coaches needed. If you have a love for children and are looking for a great atmosphere to work in, then Cyclone Gymnastics is for you. Please contact us email.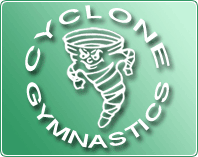 Celebrate your next
birthday
with us. We provide the music and activities - you have all the fun! A truly memorable party for very affordable rates!


What does Cyclone offer?
Cyclone offers both recreational and competitive programs designed to help children learn to set and achieve goals, learn progressive skills and learn discipline in a safe, fun environment.

Gymnasts learn creativity, flexibility, strength, grace, and coordination, while gaining confidence and positive self-esteem, self motivation, dedication, determination, work ethic, time management, team work, team spirit, leadership, sportsmanship, respect for others, poise, and grace.

Our goal is for each student to learn at his or her own pace striving for a personal best, not only in gymnastics, but also in life.

We have a 13,125 sq. ft., state-of-the-art facility and pride ourselves on small class sizes which maximize instruction time.

Cyclone offers a competitive training program for both boys and girls. The focus is to develop the gymnastic skills essential for effective competition.

Through an integrated program, gymnasts will be taught skills necessary for levels training - team through elite.

Join the fun... Join the excitement!

Cyclone Gymnastics offers professional instruction

and classes for

Preschool

,

Boys

and

Girls

Gymnastics,

Tumbling

,

Cheerleading

and

Competitive Teams

.

Register Today

!

Proudly hosting...

CYCLONE GYMNASTICS

CHALLENGE @

THE ARNOLD SPORTS FESTIVAL

For questions please contact us at

cyclonegymnastics@hotmail.com

Click Below For:

2020 RESULTS:

Vendors: Please email

Open Gym: No Open Gym at this time. Ages 6 & Over. Unenrolled students must have signed Release. Click for Release.

GIFT CERTIFICATES available! Call to purchase.

Enroll for classes ONLINE anytime.

Unlimited make-ups!

Manage your classes, payments and more by using our customer portal under the classes tab. Once you have registered online for classes, the customer portal is your one-stop shop.

Enrollment is continuous and fees are easily managed on a monthly basis.

Cyclone gymnastics offers professional instruction. All Cyclone instructors are qualified with a broad gymnastics and cheerleading background.


Disounts available:
Multiple classes for 1 student receive 20% off, multiple students per family receive 10% off lowest tuition and 1/2 off registration fee.



Cleaning Services Provided By La Cenicienta Cleaning