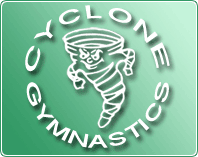 Wear the latest and greatest in
Cyclone apparel
!
Leotards in most sizes, cuts and colors are regularly available. We also offer:
Arnold Classic shirts
Shorts
Sweatshirts
Stop by our shop to pick up your gear today!



FEE: $10.00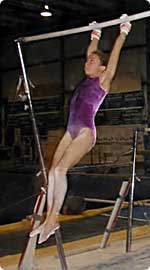 SATURDAYS 1:00-2:30pm
Gahanna Cyclone Gymnastics Open Gym Rules
Available for ages 6 and up.
All gymnasts must sign in and pay. All non-members must have a parent or guardian sign a release form.
Only gymnasts are allowed on the gym floor and equipment. NO others are allowed.
No horseplaying or roughhousing will be allowed in the gym. No exceptions.
Know your limitations! For your own safety, do not attempt skills you haven't been taught in class.
Parents please be prompt on picking your child up. It would be greatly appreciated.
To maintain a safe atmosphere, open gym rules must be followed. If these rules are not followed, this privilege can be taken away on an individual basis.
Gahanna Cyclone Gymnastics reserves the right to cancel open gym at any time.