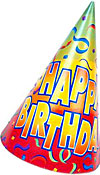 Let Cyclone Gymnastics help you with your son or daughter's next party. We provide activities, music and more in a safe, fun environment.
Times
Available times currently include: Saturdays 3:00pm and 5:00pm, Sundays 11:00am, 1:00pm and 3:00pm.
Duration
Parties at Cyclone last for 1 1/2 hours. The first hour of which our instructors will guide your party attendees through our gymnastics related activities. The last 30 minutes of the party are used for gifts and refreshments. Additional time can be purchased at the rate of $15 per 15 minutes when available.
Activities
Activities will vary with the average age of your guests. Typical activities include the obstacle course, trampoline with pit, bars and beam. Other activities, depending on the number of kids and their ages, are also available.
Notes
Table and chairs are provided. Please remember tablecloths, paper products, utensils and any food you plan to serve, i.e. pizza, cake, ice cream and drinks.
Refreshment time goes quickly. Be sure that your treats stay simple for quick set up and clean up. Please avoid small snacks such as chips, pretzels, fish crackers, etc. as most of these items end up on the floor and results in a mess for the next party.
Decorations are limited to anchored balloons. Taping items to the walls and confetti are not permitted.
Pricing
$130.00 (up to 10 children, including birthday boy/girl)
The fee for each addtional child is $10.00.
Parties are confirmed by making a $30.00 non-refundable deposit. Deposit must be received within 7 days of booking.
A final guest count will be confirmed mid-week prior to your party. The number confirmed will determine the balance due on the day of the party. If the count increases to a higher number on the day of the party, the balance due will be adjusted accordingly. The balance due on the day of the party must be a cash payment
Booking a Party
Call the Cyclone office at 614-863-4616. Please be sure to include a day and evening telephone number, desired date, desired time and approximate number of children attending in your message. Please allow 24-48 hours for a return call.